Hokkaido is synonymous with the best powder on Earth.  Fierce Siberian storms cross over the Sea of Japan, dumping up to 15 meters of pure white powder on our waiting slopes each winter.  SnowCats are the way to access this first-line, untracked powder.
Our terrain is wide and the runs are long, each delivering 450-680m of vertical.  You'll get in 7-9 epic runs a day.  Highlights include glade skiing through old-growth birch trees, big bowls with varied aspects, fast-pitched terrain, challenging fall-lines and otherworldly views of the Sea of Japan.  This is the Hokkaido powder you've been dreaming about.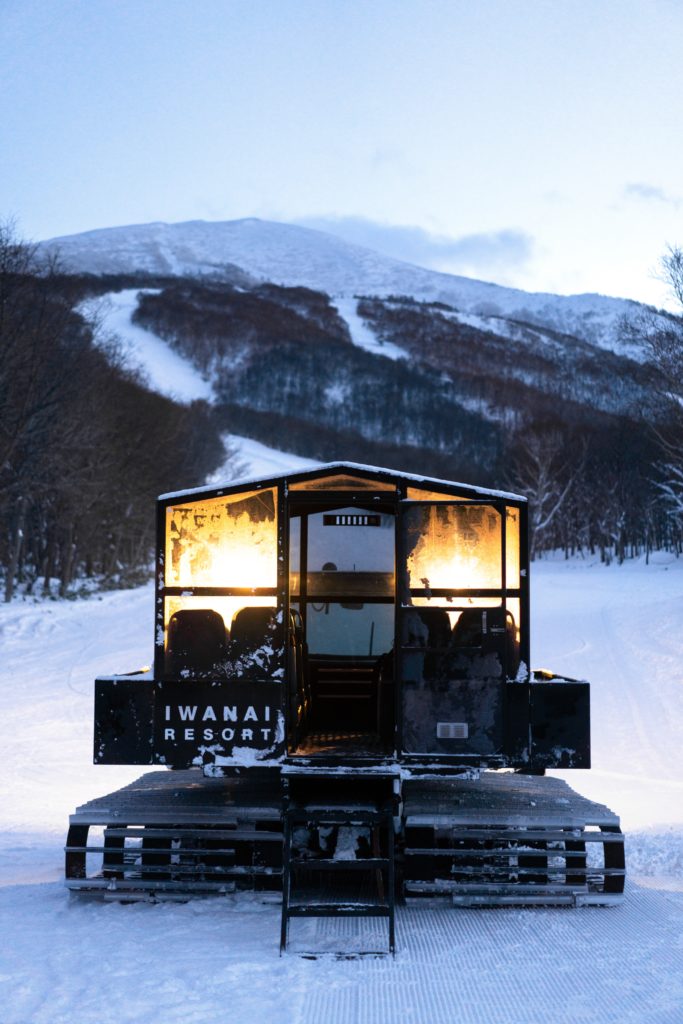 Cat skiing in Japan provides the ultimate backcountry experience, conveniently dropping you off in the heart of powder country. The island's terrain and weather patterns make a snowcat the most practical method of consistently accessing Hokkaido's renowned powder. High winds that sometimes close Niseko's lift infrastructure generally do not affect us, as a snowcat can travel in almost all conditions – we make sure you get up and into the deep.
1. Departure Dates:20 December 2021 – 31 March 2022
2. Price:¥90,000 pre person
3. Minimum Travelers:1
4. Maximum Travelers:14
5. Included Meals:1 Lunches
6. Tour Starts / Finishes:Niseko
7.  Itinerary:
 7:00-7:30 Pick up in Niseko
 8:15 Arrive Iwanai
 8:30 Day Briefing
 9:00 Start Tour
 10:30 Coffee & Donuts
 12:30 Lunch
 15:30 Finish Tour
 15:30-17:30 Apres ski till…
 17:30-18:30 Arrive Niseko
Iwanai Town, located in Western Shakotan on the Sea of Japan coast of Hokkaido, is a port town that once prospered as a herring fishing ground. In the surrounding area, the Niseko-Shakotan-Otaru Coastal National Park stretches over one city, eight towns, and two villages, offering a varied view of the coast and mountains.
〇 COVID-19 Safety Measures
The tour will be conducted with adequate measures to prevent COVID-19 infectious diseases.
In order to prevent infection, the following are the conditions for participation in the tour.

(1) Please wear a mask at all times while participating in the tour.
(2) Please cooperate with us in coughing etiquette to prevent the spread of infection.
(3) No history of overseas travel within 14 days prior to departure
(4) No symptoms of the following within 14 days prior to departure:
・Fever or ongoing fever
・Symptoms of a cold (fever, cough, sneezing, sore throat, etc.)
・Strong lethargy (fatigue) or breathlessness (difficulty breathing)
・Other concerns about your physical condition

If you do not abide by the above promises (1) to (2), if any of the conditions (3) to (4) apply to you, or if you do not agree to the following requests for cooperation during the tour, you will not be allowed to participate. Thank you in advance for your understanding.
〇 Cancellation Fee
◯ What to bring and rent